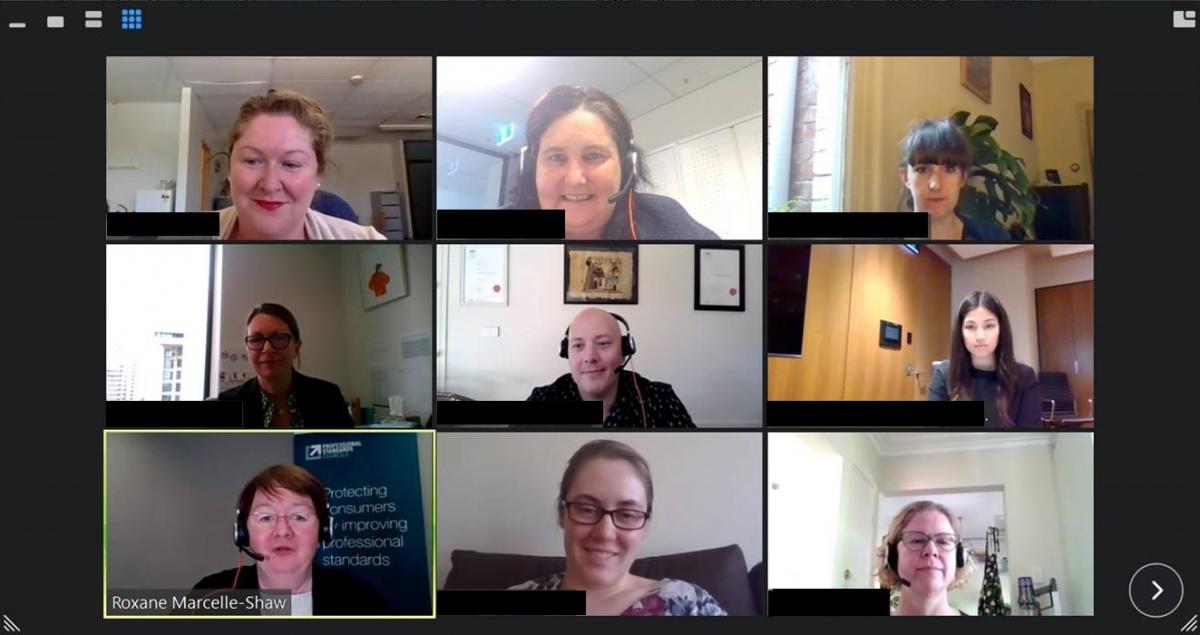 The Professional Standards Forum for 2020, held online on Thursday 15 October, was hosted by the Professional Standards Councils Chair, Mr John Vines OAM, and CEO, Ms Roxane Marcelle-Shaw. Over 60 delegates from across Australia heard from an expert panel on the role of codes of ethics in delivering consumer-focused professional and occupational services.
A video recording of the panel session and slides presented by speakers are available below.
In the panel session, Dr Justine Rogers, Senior Lecturer at UNSW Law and Deputy-Director of the Law Society of NSW flip research stream, presented research on professional ethics and regulation from a consumer protection perspective. The Professional Standards Councils' member from Western Australia, Ms Rachel Webber, shared insight into public perceptions of occupations' ethical behaviour and introduced the Councils' recent work to assist associations in developing consumer-centred codes of ethics. Managing Director Australia and Asia-Pacific with The Behavioural Insights Team, Dr Rory Gallagher, presented a behavioural perspective on promoting ethics and ethical decision-making.
The Forum concluded with an interactive workshop led by Dr Gallagher, where participants learned ways in which behavioural insights can help regulators to drive and measure changes to deliver an effective code of ethics that improves consumer experiences and the trustworthiness of the profession or occupation.
The next Professional Standards Forum will be held in April 2021 on a new topic to assist and encourage occupational associations in developing their self-regulatory capacity and to get the best out of operating Professional Standards Schemes.

Watch the Forum Panel Session
Click on the video below to watch a recording of the panel session of the Forum, featuring presentations from Dr Justine Rogers, Ms Rachel Webber and Dr Rory Gallagher, with concluding remarks from the Chair of the Professional Standards Councils, Mr John Vines OAM. 
Resources

Dr Justine Rogers, Senior Lecturer, UNSW Law and Deputy-Director of Law Society of New South Wales Future of Law and Innovation in the Profession (flip) research stream

Rachel Webber, Professional Standards Councils Member for Western Australia

Dr Rory Gallagher, Managing Director, Australia and Asia-Pacific, The Behavioural Insights Team