The Professional Standards Councils are responsible for facilitating consumer protection by enabling the creation of statutory professional standards schemes. We do this by approving and supervising schemes applied for by occupational associations on behalf of their members.
We are modernising the scheme application process and want to keep you informed of progress. More detail is available in the Scheme Application Redesign Project summary (PDF).
We have launched our new scheme application framework for its pilot phase.
New scheme application framework - pilot phase
On 18 June 2021, the Professional Standards Councils of all states and territories endorsed the new scheme application framework to begin its pilot phase. The new framework aims to achieve five key benefits, which will be measured over the course of the pilot phase:
improve the Council's focus on consumer protection
modernise the application process
integrate the application with associations' annual risk management reporting (thus reinforcing the meta-regulatory relationship between the Councils and occupational associations with approved schemes)
improve engagement between the Councils and occupational associations
provide an evidence base to demonstrate scheme success.
The new framework is the result of our co-design engagement and collaboration between the members of the Councils, representatives from occupational associations, consumer advocates and experts from the professional standards community.
We encourage associations considering applying for a professional standards scheme to use the new framework, as the current Application Guidelines and Template will be phased out by mid-2022.
More information about the benefits of the new framework and the pilot phase can be found in the infographics below:

Benefits and outcomes infographic (PDF)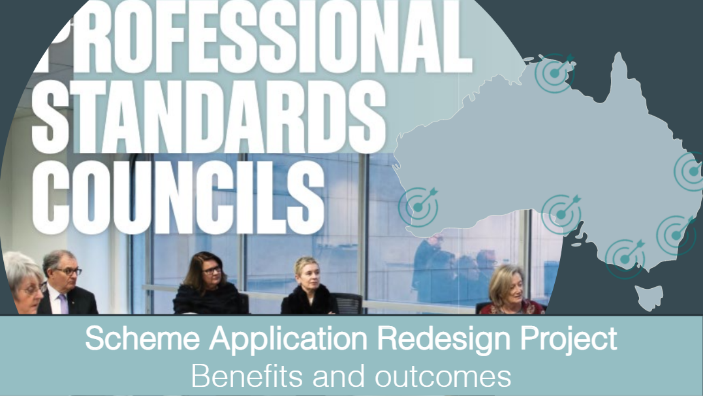 Framework launched on 28 July 2021
View the recording of the launch event for the pilot phase of the new framework, held on 28 July 2021.
What is in the new framework?
The new framework boasts new features to make completing an application for a professional standards scheme easier and more accessible.

A diagrammatic representation of the modules and sub-modules, with their templates and guidance, is available in the scheme application framework matrix (PDF).
The new Scheme Application Framework
The new framework has six modules, all of which are available below. During the pilot phase, until February 2022, the Councils will continue to refine the new application framework responding to associations' user feedback.
Pre-application workshop
Before you submit an application using the new framework, you must contact the Professional Standards Authority to arrange a pre-application workshop. The pre-application workshop allows the Authority to check the information we need with you, including eligibility to apply under the professional standards legislation.
If you have previously had a scheme approved, you may not need to complete all the modules. The Authority will work with you to determine the modules you need to complete.
Introductory guidance - Download all documents in this module (ZIP)

Guidance 0.0.1: Application organisation (PDF)

Guidance 0.0.2: Aide memoire (PDF)
Module 1 - Download all documents in this module (ZIP)

Module 1.0: The association capability (PDF)

Template 1.0.1: Readiness to regulate (DOCX)

Guidance 1.0.2: The association capability (PDF)

Submodule 1.1: Occupational association (PDF)

Template 1.1.1: Occupational association (DOCX)

Guidance 1.1.2: Occupational association (PDF)

Submodule 1.2: Governance, conflicts of interest and financial arrangements (PDF)

Template 1.2.1: Governance, conflicts of interest and financial arrangements (DOCX)

Guidance 1.2.2: Governance, conflicts of interest and financial arrangements (PDF)

Submodule 1.3: Enterprise risk management (PDF)

Template 1.3.1: Enterprise risk management (DOCX)

Submodule 1.4: Other statutory requirements (PDF)

Template 1.4.1: Other statutory requirements (DOCX)
Module 2 - Download all documents in this module (ZIP)

Module 2.0: Letter of application (PDF)

Submodule 2.1: Scheme instrument (PDF)

Template 2.1.1: Scheme instrument (DOCX)

Guidance 2.1.2: Scheme instrument (PDF)

Submodule 2.2: Insurance standards (PDF)

Guidance 2.2.1: Insurance standards (PDF)

Submodule 2.3: Public Consultation Document (PDF)

Template 2.3.1: Public Consultation Document (DOCX)

Guidance 2.3.2: Public Consultation Document (PDF)

Submodule 2.4: Scheme compliance plan (PDF)

Template 2.4.1: Scheme compliance plan (DOCX)
Module 3 - Download all documents in this module (ZIP)

Module 3.0: Members and class of members (PDF)

Template 3.0.1: Members and class of members (DOCX)

Guidance 3.0.2: Members and class of members (PDF)

Submodule 3.1: Consumers and consumer harms (PDF)

Template 3.1.1: Consumers and consumer harms (DOCX)

Guidance 3.1.2: Consumers and consumer harms (PDF)
Module 4 - Download Module 4.0-4.1 (ZIP) and download Module 4.2-4.3 (ZIP)

Module 4.0: Professional risk management (PDF)

Template 4.0.1: Professional risk management (DOCX)

Guidance 4.0.2: Professional risk management (PDF)

Submodule 4.1: Association codes (PDF)

Template 4.1.1a: Association codes (DOCX)

Template 4.1.1b: Association codes comparative table (DOCX)

Guidance 4.1.2: Association codes (PDF)

Submodule 4.2: Consumer complaints system (PDF)

Template 4.2.1: Consumer complaints system (DOCX)

Guidance 4.2.2: Consumer complaints system (PDF)

Submodule 4.3: Member discipline system (PDF)

Template 4.3.1a: Member discipline system (DOCX)

Template 4.3.1b: Model Code (DOCX)

Guidance 4.3.2: Member discipline system (PDF)
Module 5 - Download all documents in this module (ZIP)

Module 5.0: Member claims data (PDF)

Template 5.0.1: Member claims data (DOCX)

Guidance 5.0.2: Member claims data (PDF)

Submodule 5.1: PI insurance availability (PDF)

Template 5.1.1: PI insurance availability (DOCX)
Module 6 - Download all documents in this module (ZIP)

Module 6.0: Annual Professional Standards Report (PDF)

Guidance 6.0.1: Annual Professional Standards Report (PDF)
We want your feedback
Help shape the new Scheme Application Framework through the pilot phase by providing us with your feedback and ideas. To get in touch:
References
Scheme Application Redesign Project - Reference Group Membership (PDF)
Scheme Application Redesign Project - Reference Group Terms of Reference (PDF)
Scheme Application Redesign Project summary (PDF)
Scheme Application Redesign Project infographic (PDF)
Current scheme application guideline (PDF) and template (PDF)
Stakeholder Engagement Framework (PDF)