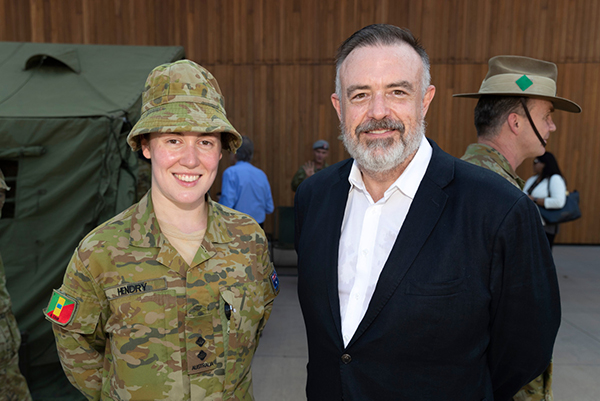 Left: Gabrielle Hendry, Supervision Analyst, Professional Standards Authority (Lieutenant, Platoon Commander, 8 Logistics Support Company, 8 CSSB); Right: John R Rappell, Director Professional Standards Regulation, Professional Standards Authority.
The 2019-2020 bushfires across Australia have been devastating for people, homes, communities and wildlife. In early January, as part of the Australian Government's response to the bushfires, the Governor-General made a compulsory Call Out to all Australian Defence Force Reserves for their support. 
Gabrielle Hendry from the Professional Standards Authority is a Lieutenant, Platoon Commander, 8 Logistics Support Company, 8 Combat Service Support Battalion with the Army Reserve and has, up until recently, been involved in the 'Operation Bushfire Assist' call out.
Gabby undertook a variety of roles, from acting Officer Commanding of a Logistics Support Company to Operations Officer of a Combat Service Support Team. Her support was focused on assisting state authorities to reopen roads, establishing a distribution centre for disaster relief supplies and donations in Batemans Bay, and suppling food and water to affected communities.
After visiting the evacuation centres her team had helped establish around Bateman's Bay, Gabby said she enjoyed seeing how her efforts were making a difference to locals affected by the bushfires.
"It was really rewarding to see the positive effect we had on the local population and to support their needs so they can return to normal as soon as possible,' Gabby said.
During her work with evacuees, Gabby heard first-hand about the plight of some local families and she also saw how the crisis had brought people together.
"Such sad stories from the locals about fire devastation around the region but also golden glimpses of hope and a wonderful sense of community spirit," Gabby said.  
The Professional Standards Authority was invited to the Army Reserve 'Employer Engagement Day', on 31 January 2020, and was presented with a 'Certificate of Appreciation' which recognises the Authority's support for Gabby and her service during Operation Bushfire Assist. 
The certificate was received on behalf of the Authority by Professional Standards Regulation Director, John R Rappell.
We thank Gabby for her service in the bushfire response and welcome her safe return to work this week.