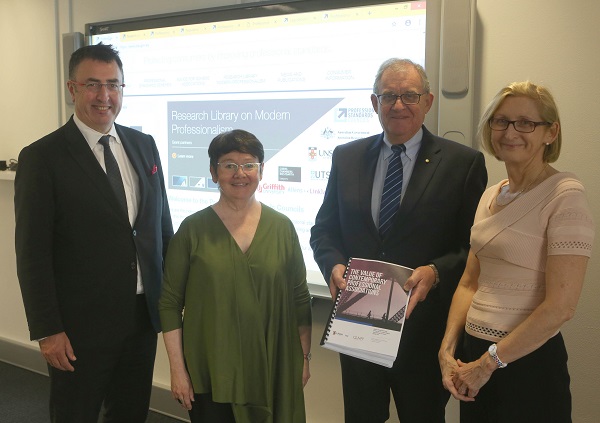 From left: Andrew Lumsden, PSC deputy chair; Roxane Marcelle-Shaw, CEO; John Vines OAM, PSC Chair; and Professor Dimity Kingsford Smith, director of the UNSW CMLR
The Professional Standards Councils (PSC) has launched a Research Library on modern professionalism led by the UNSW Centre for Law, Markets and Regulation (CLMR). The Research Library provides articles on practical mechanisms to advance professional standards and to help occupational associations improve standards of conduct of their members and provide higher levels of consumer protection.
The Research Library is the result of a 3-year collaborative project between the PSC and UNSW CMLR research partners, with funding from the Australian Research Council (ARC) Linkage Project scheme, to promote and advance research on professional obligation and regulation in the 21st century.
It comprises more than 40 articles as well as links to other resources written and produced by leading academics from the UNSW CLMR, Corrs Chambers Westgarth, University of Technology Sydney (UTS), Griffith University, Allens, and the University of Melbourne including PSC Deputy Chair, Andrew Lumsden. 
CEO of the Professional Standards Authority (PSA), Roxane Marcelle-Shaw, said: "The Research Library is a valuable resource aimed at expanding academic, professional and community access to contemporary knowledge of professional standards regulation. In particular, the research presented in the library will assist emerging professions to engage with professionalism and the development of self-regulatory capacity."
The Research Library includes more than 40 downloadable subject overviews with links to further resources in seven focus areas. These are:
Professions
Ethics and Conduct
Regulation and Governance
Risk
Qualifications
Certification
Ongoing Education
It is hoped that the Research Library will encourage and assist a wider range of occupational associations looking to improve the standard of protection afforded to Australian consumers.