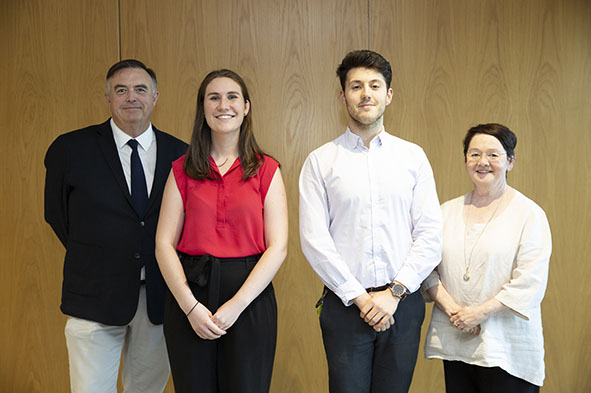 The Professional Standards Authority was pleased to participate in the NSW Law Society's Summer Clerkship Program for the first time this year. We were fortunate to have two talented law students from the University of NSW - Alanna Condon and Michael Siciliano – join us over the summer and we thank them for their contributions towards the work of the Professional Standards Councils.
Alanna said "My summer clerkship at the PSA has provided me with an incredible insight into Australia's unique professional standards regulatory and legislative regime. I feel privileged to have been able to contribute to the Professionals Standards Councils' work in improving professional standards and strengthening the protections afforded to Australian consumers. 
My experiences at PSA have reinforced my passion for human rights law and provided me with an increased sense of direction as I enter my final year of studies at UNSW. No two days are the same at PSA and I'm very thankful to have had the opportunity to work alongside such a dedicated and diverse group of colleagues." 
Michael added "My time with the Professional Standards Authority has been the most challenging and rewarding professional experience of my career so far. I'm proud to have worked with such a fantastic team to improve the occupational standards and protection of consumers. Every day offered new challenges, and encouraged me to be adaptive and creative to achieve whatever task was given to me.
I would wholeheartedly recommend this opportunity to anyone that is interested in working for the government, developing or implementing policy, or undertaking unique research tasks. To any future Summer Clerk, I hope you take away as much from the experience as I have."
The PSA's summer clerkships provide law students with a unique opportunity to be involved in government regulatory practice and the advancement of professional standards. 
We wish Alanna and Michael well with their studies and rewarding careers in legal practice.